Note:
I have previously covered DryShips (NASDAQ:DRYS), so investors should view this article as an update to my earlier publishings on the company.
George Economou has done it again. Friday morning, DryShips' colorful CEO and chairman well known for his frequent self-dealings and complete disregard of outside shareholders, was key to a couple of company announcements that will make him a significant common shareholder in DryShips again without paying a single dollar in cash.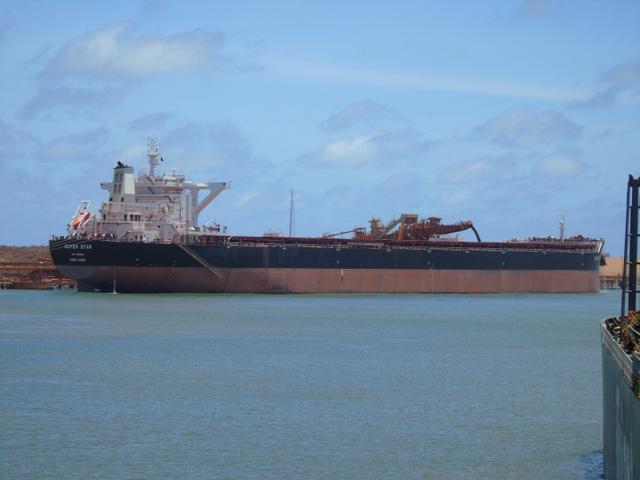 Photo: Recently acquired Newcastlemax Bulk Carrier "Super Star" – Source: BalticShipping.com
Let's go over the announcements made by the company in detail:
Terminated the infamous common stock purchase agreement with Kalani Investments, effective immediately.
Entered into private placement agreement with George Economou under which the company will issue at least 36.4 million shares at a price of $2.75 to entities affiliated with him in exchange for 49% in tanker operator Heidmar Holdings LLC, the termination of certain participation rights, the forfeiture of the existing supervoting preferred stock and a repayment of $27 million under the company's existing $200 million credit facility.
DryShips will conduct a rights offering for up to $100 million in common shares at a price of $2.75. Economou will not exercise its respective subscription rights and backstop the offering in full. Any shares issued to him under the backstop commitment will be treated as repayment under the company's existing $200 million credit facility.
Economou has agreed to a six-month lock-up period for all shares acquired by him in the transaction.
DryShips has agreed not to conduct any equity offerings for the remainder of 2017 without approval of the majority of its unaffiliated shareholders.
In sum, Economou might end up owning up to 2/3 of the company's equity at a roughly 50% discount to the company's estimated net asset value per share.
The deal has quite a few implications with some of them being positive and some clearly negative. Let's start with the positives:
Economou again becoming a major equityholder in the company finally realigns his interests with outside shareholders, at least to a certain extent.
New alignment also evidenced by the termination of Economou's 30% participation rights in realized asset value increases.
The infamous Kalani scheme looks dead now as further iterations would materially harm Economou's new equity stake.
Future equity offerings would have to be engineered in a very different way to protect (or even increase) the value of Economou's stake.
Six month lock-up period effectively precludes Economou from quickly skimming gains. That said, I wouldn't expect him to sell shares in the company anyway given the strong balance sheet and still considerable discount to net asset value.
Now let's take a look at the negatives:
The proposed transactions are heavily dilutive to the company's net asset value per share.
Questionable deal valuation. Particularly the 49% stake in tanker operator Heidmar might be more of a liability than an asset in the current dayrate environment. The company has actually been for sale for over a year now with an anticipated deal with FDX Capital in the $70-80 million range falling through at the end of last year. Since then, tanker rates have deteriorated even further and the short- to medium term outlook remains cloudy.
Moreover, I wouldn't assign any real value to the forfeiture of the remaining supervoting preferred shares either.
Tailor-made transaction that unilaterally favors Economou relative to outside shareholders (surprise, surprise)
Frankly speaking, I would have preferred Economou officially ending the infamous Kalani scheme and finally coming up with some cash instead of stuffing DryShips with more unwanted assets of questionable value but I can't say I am surprised either.
Let's now try to approximate a post-transaction net asset value by using the following main assumptions:
estimated post-transaction share count of 115 million
assigning only half of the proposed $100 million private placement amount to net asset value mainly due to the questionable valuation of the Heidmar stake
applying a 10% discount to the fleet's stated book value to account for potential overpayments in some of the recent self-dealings
Under this scenario, I estimate the post-transaction net asset value at roughly $5.30 per share.
There are certainly more optimistic ways to calculate net asset value. For example, using a lower post-transaction share count of just 105 million shares (assuming almost no Kalani share sales over the course of the last week), assigning the full $100 million of the private placement to net asset value and abstaining from deducting the 10% fleet book value discount, would increase the number to roughly $6.85 per share but, admittedly, this would be quite a stretch.
Using the $5.30 number, the shares are currently trading at an approximately 40% discount to net asset value per share. Is this justified?
With the relentless issuance of new equity over the past nine months having provided DryShips with one of the most healthy balance sheets in the entire shipping industry and George Economou's interests, at least temporarily, now being aligned with outside shareholders, one could argue that the shares should trade closer to net asset value.
On the flip side, the proposed transaction once again shows the persistent corporate governance issues at DryShips as George Economou stands to grab up to two thirds of the recapitalized company at an almost 50% discount to net asset value without using any cash.
While I do not expect Economou to sell his newly acquired stake anytime soon or raise more equity at a fraction of book value, he will, most likely, continue his self-dealings by shifting assets from his privately held companies to DryShips and vice versa.
Given these issues, I view a considerable discount to net asset value as appropriate for the time being.
Going forward, I do expect investors' attention to shift somewhat away from net asset value and focus more on DryShips' earnings power given all the recent vessel additions and the company's prediction for annualized EBITDA of $70 million.
While the drybulk segment has shown signs of life as of late, the tanker business including the newly acquired Heidmar operations will remain a drag on the company's results for the time being, just like the oil service vessels. That said, the majority of the company's revenues will still be derived from the drybulk business for the foreseeable future.
However, don't expect Q2 earnings to act as a catalyst for the company's shares as many of the recently acquired vessels have only been delivered to the company towards the end of the quarter with the remaining deliveries carrying over into Q3.
Third quarter results will be a much better proxy for the earnings power of the recapitalized company but it will take another three months until then.
Expect DryShips' shares to lose some of its appeal to traders and speculative investors going forward as the stock will trade more in line with industry fundamentals.
Bottom line:
And the winner is: George Economou.
As always, he successfully managed to come out far ahead of investors as just another masterpiece in financial engineering will enable him to grab up to 2/3 of the recapitalized company at an almost 50% discount to net asset value without using any cash.
The proposed transaction significantly dilutes net asset value per share, but to some extent realigns Economou's interests with outside shareholders.
After Friday's rally, the stock's estimated discount to net asset value has decreased to roughly 40%, a level that many would deem very much appropriate given the company's history.
Going forward, I would expect volatility and trading volume to decrease considerably and the stock to trade more in line with industry fundamentals until investors will be able to assess the company's regained earnings power at the time of the Q3 earnings release roughly three months from now.
Personally, today's announcement took me by surprise with only a fraction of the long position originally planned. In fact, I was looking to load up more shares towards the end of the session in preparation for the anticipated final week of Kalani dilution. I sold 3/4 of my rather small position into the early run-up and kept the remainder for a gamble, a move that didn't play out.
While I correctly predicted the shares to exhibit strength with the offering moving closer to the finish line, I wasn't really prepared for George Economou's bold action today. Consequently, my gains came in much smaller than previously hoped for.
Investors with superior timing could have realized returns of up to 400% today.
While I have kept the small remainder of my DRYS position in case of traders potentially chasing the shares again on Monday, I remain skeptical about the stock's potential over the short to medium term given the vastly decreased discount to net asset value. That said, with the Kalani selling pressure finally gone, drybulk rates generally improving and a very decent balance sheet, the shares might exhibit some more strength going forward.
I will update my projections once the company releases new information, so stay tuned.
Disclosure: I am/we are long DRYS.
I wrote this article myself, and it expresses my own opinions. I am not receiving compensation for it (other than from Seeking Alpha). I have no business relationship with any company whose stock is mentioned in this article.
Editor's Note: This article covers one or more stocks trading at less than $1 per share and/or with less than a $100 million market cap. Please be aware of the risks associated with these stocks.